Online Drivers Education for the State of California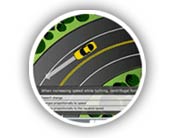 Why should you spend four 8-hour Saturday's in a stuffy driver's ed classroom when you could take your California DMV approved driver's education class online? OnlineDriverEd.com proudly offers a Online Driver's Ed class that lets you satisfy your CA Driving Education requirement online. Yep, no more painfully boring and ineffective classroom attendance is needed. Instead, get the online driving school course that will teach you effectively while keeping you captivated with interactive lessons, statistics, and real life driving stories... and best of all, never leave the comfort of your home!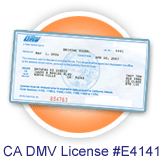 Selecting a Driving School Licensed by the California DMV
Several driving schools throughout California may offer online drivers ed classes, but be warned that not all of them are actually licensed by the CA Department of Motor Vehicles. With OnlineDriverEd.com, you get the comfort and quality provided by California's premiere DMV licensed driving school: Driver's Ed Direct.
California Certificate of Completion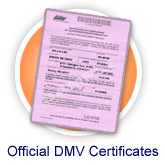 Your driver's education completion certificate will be mailed to you upon successful completion of your on-line drivers education course. You will be provided with FREE online confirmation of your DMV certificate processing as well. After you get your certificate, take it to your local DMV as proof that you have finished an approved CA Driver's Education course. Then you will be eligible to take your multiple choice DMV learner permit exam.

Driver's Ed for Every City in CA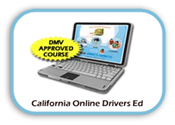 Looking for great on-line driver's ed in your city? Then we've got you covered! We provide online driver education for the entire state of California. We've got Fresno drivers education, Clovis drivers ed, Pinedale driving school classes, Fresno County driver ed courses, drivers ed for the San Joaquin Valley, and hundreds of other California cities. When it comes the safety of teens across the state, there's no better way to get your California drivers education certificate than with OnlineDriverEd.com.